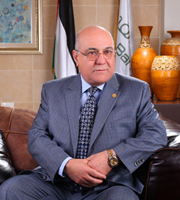 Our Dearest Clients, Online users and Browsers ….
On behalf of the board of directors, it is our great pleasure to welcome you to our new Banking web portal. As part of our continuous responsibility and self-belief in delivering the best services to our clients, we introduce our new web portal to establish better and easier communication channels with you and all those interested in Quds Bank.
At Quds Bank, your trust and expectations means everything to us. That's why we respect your privacy and protect it with strong encryption and strict policies that govern how your daily transactions are handled. We appreciate your choice to bank with us, and assure you that we are fully committed to deliver the most pleasant online banking experience in a secure and efficient manner.
Stemming from our strategy to serve you the way you need, we continuously look for opportunities to improve the quality and efficiency of our services. We ourselves set the expectations high by aiming to keep up with the technological growth in the industry and look forward to surpass it one day.We undoubtedly believe in the significance of our electronic network, providing you with information and facilitating easy and safe access to it.
We hope that our new online portal will meet your expectations and allow you to enjoy our online banking services, the bank's most recent product offerings and other features.
We appreciate any remarks you might provide, and we stand ready to embark on your feedback to continue to serve you better.
Our values represent our culture. We want to carry on searching for the best ways to ensure your convenience and make you feel as part of the Quds Bank community. Quds Bank will always be your bank, "The bank of the nation and it citizen's".
Akram Abdel-Latif Jerab
Chairman of the Board